Over $50,000 will go to 12 SummerCollab Member Programs to upskill 200 counselors who will serve over 2,000 low income youth this summer in community based organizations and schools from across the state.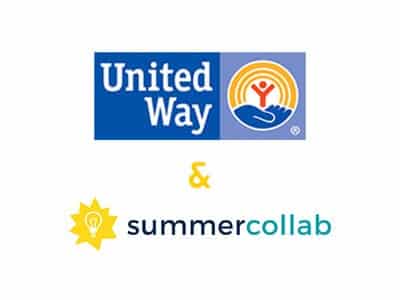 Summer Learning Loss has a categorical impact on low-income students: two-thirds of the achievement gap between low and high-income students is sourced nationally in summer learning loss. To help combat this dichotomy, United Way has teamed up with the Summer Learning Collaborative to ensure counselors across the state serving low-income youth have new resources at their disposal to support summer learning. Both SummerCollab and United Way believe it is crucial to equip communities with the resources needed to offer all kids access to extraordinary and enriching summer programs – programs that boost literacy, critical thinking, and sense of self.
Through targeted planning, talent, leadership, and curricular supports, the SummerCollab seeks to enable community-based institutions to make their summer programs more accessible and more By forging powerful partnerships that leverage collective assets to make more possible for kids, the SummerCollab has connected over 40 organizations together to improve the quality of programming available to 2300 low-income students across the state.
Teacher counselors are at the forefront of the SummerCollab's fight against summer learning loss, and thanks to United Way's commitment to improving summer outcomes within community agencies, all 200 camp counselors across SummerCollab's network were offered elite professional development for the first time through a "Talent RFP" process.
As Catherine Lindroth, Founder of SummerCollab said, "By collaborating intentionally with our camp partners and United Way, we will improve the quality of teaching and learning at existing summer programs – the fuel needed to light kids up about learning. We are so grateful to United Way for acting as the funding backbone to this work, enabling us to ensure our camp partners have what they need to ensure campers have access to higher quality counselors for the three months of summer that we know are so crucial to their long-term development."
Today, the social and emotional needs of low-income youth often exceed the knowledge and expertise of counselors on site at existing summer programs. In fact, over 60% of low-income youth in our state struggle with trauma and critical literacy gaps. As such, growing intrinsic motivation, critical thinking, and sense of self requires consistent and high-quality instruction from leadership and staff.
The quality of instruction needed is precisely why this $50,000 commitment from United Way is so critically important. Thanks to these funds, SummerCollab has been able to drive targeted and impactful change in the expectations and training experience for counselors on-site at partner programs. Before the start of summer, the Collaborative's partners and their counselors engaged in a minimum of 10 hours of training through elite programs like Jounce, STRIVE, Outward Bound, Responsive Classroom, and CCAC. Catherine Lindroth summarized the impact of the counselor training as "though all camps share challenges with talent accountability, training, orientation and competency needs, we expect to see these tailored investments through our new "Talent RFP Process" go much further to help Camp Leadership Team's achieve the culture, vision, and mission they seek."
The impact of this investment will be compounded through SummerCollab's innovative curriculum model, which pairs teachers hired as Instructional Coaches with counselors throughout the summer. Through debriefs and planning time, our IC's work to ensure teacher counselors continue to improve week after week in their capacity to engage students in intentional and engaging learning experiences.
About Elite Professional Development Vendors
STRIVE – Introduces student-athletes and coaches to an intentional way of culture-building and leading a culture-driven community.
Jounce – Jounce trains current and future school leaders for rapid teacher skill growth, thus accelerating teachers towards excellence and a reimagined principal role.
Outward Bound – A leading provider of outdoor education programs for youth and adults.
Gap – Helps bring an understanding of student needs, as well as meeting the needs during the summer. GAP program has a model that focuses on a three multi-tiered system of behavior supports.
Christina Culture Arts Center (CCAC) – Provides cultural competency training, coaching staff on effective facilitation of groups to foster a sense of inclusiveness and belonging.
Responsive Classroom – A research-based approach to K-8 education driving teacher effectiveness, higher student achievement, and improved school climate.
Independent School Management – Offers workshops to propel the team to the next level of excellence by realizing a new way of doing things through unique action plans, resources and tools, content and strategies, networking opportunities, and expert guidance.
For more information about the SummerCollab and how we Make Summer Smarter, check out our model.
To help fund the SummerCollab and its fight to reverse summer learning loss, please consider making a donation. Every dollar counts, Every kid counts.