By Emma Derr
Roderick (Rick) is a counselor at the YMCA. He grew up in Bear and graduated from Caravel in 2011. He is a current student at UD with a business management major and organizational and community leadership minor.
When campers walk into the YMCA every morning, bright and early, they see Rick's smiling face. He is in charge of checking all the campers in before they start their day. But this is the only time you'll see him sitting down – as soon as sign in is over he's off playing games with the kids.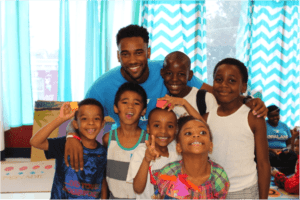 Throughout the rest of the day, Rick is teaching clubs, normally Reading is Fundamental, a program to help kids enhance their reading comprehension skills, and science.
When I asked him what his favorite club was, his hands went up as he said, "Science – by far, science. One of my favorite parts of being a counselor is seeing the kids' reactions to the science experiments we do together."
These academic clubs are part of the Summer Collaborative's effort to give kids the opportunity to learn during the summer in a fun, engaging, and lasting way. Rick has seen the way the program has positively impacted kids in the program, especially in many individuals whose attitudes have improved.
Rick commented that his summer at the YMCA has changed his life as well. He had planned to become a businessman, but he decided that instead of waking up every morning, donning a sharp suit, and grabbing his business briefcase, he would rather work at a school. He told me he learned that the "fanciness" wasn't going to help others – but a job in education would. His goal is to do Teach For America after he graduates, and then move on to a career in school administration.
When asked to discuss how the YMCA has impacted campers' lives this summer, Rick said, "Finding out that they can enjoy science or reading – that even though it is school related they can have fun with it – that's one of the biggest take away the kids have this summer – there's more to life than sports and gossip."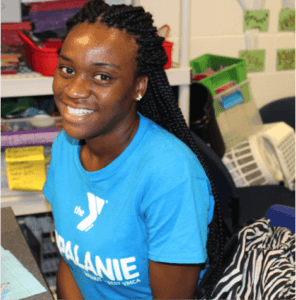 Tierre, (otherwise known as Miss T), has been working as a summer camp counselor at the YMCA for five years. She has a very special relationship with the YMCA and the kids at the camp. Since Tierre grew up in Wilmington, she finds it easy to relate to the kids, and they find it easy to talk and confide in her.
Growing up, Tierre spent her summers stepping in the streets. When she became a camp counselor, she wanted to help others recognize their own passion for step dancing, so she created a step program at the YMCA. Her thriving step team practices every day after camp and will perform at the talent show on August 7.
Between practices and coordinating the step program, Tierre teaches many academic clubs. She has recognized many positive changes this summer: "Now that the kids can choice into clubs, they are more content, which translates to fewer behavior problems. They also need the academics, so figuring out they can learn while having fun is a phenomenal change."
As Tierre approaches her senior year at Delaware State University, she contemplates what is in store for her after school. Originally, she had planned to move to Georgia, but now she has realized that she wants to stay – "I've always wanted to be a teacher, and I realized that I need to give back to the community that has given so much to me."