"The Collaborative is many things – meeting ground, capacity builder, resource generator, idea lab. But it's chief mission is singular; to elevate community center summer camps, and in the process, give low income children a worthwhile experience."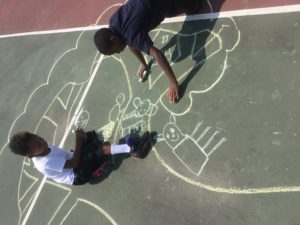 The Summer Learning Collaborative has worked with seven community centers for the past three years, and has provided three pillars of support to their existing summer programs  – training, curriculum and planning support.
A spinoff of Teach For America, SummerCollab serves approximately 1,200 low-income students in Wilmington.  By providing local community agencies with great talent, including over 100 teachers and top high school students recruited from across the state, along with curriculum, supplies, technology and planning support, The Collab developed a model poised to solve one of the greatest educational issues in the nation: Summer Learning Loss.  
"After three years of working so closely with seven agencies, we saw transformative growth in campers and the camps we've been working with," says Founder and Executive Director Catherine Lindroth. "The journey we have all gone on together has been so meaningful for all of us — learning first what summer learning could mean for our highest need kids here in Wilmington, and then learning how we could collectively work together to ensure this became a reality for all kids enrolled in our partnering agencies."
By the end of last year, SummerCollab's results were clear: over 1000 kids experienced growth rather than loss. As the organization turned the corner into Summer 2016, they wondered: Do other community centers feel they have similar needs? Could their model be applicable to other agencies serving low income youth across the state? Could they scale their impact?
The United Way of Delaware, an early funder of SummerCollab, shared this interest.  And in May UWD launched their "Make Summer Smarter Grant," providing eight agencies the opportunity to engage with Reading Is Fundamental and limited pieces of SummerCollab's model, such as training, Instructional Coaches and Operations Specialists, top teachers and students who complete counselor observations, coaching, data analytics and supply management. Ultimately each "expansion site" program would glean very specific data on the achievement gap experienced by each of their students and insights into the capacity of their existing summer program to reverse summer learning loss.  
While all selected programs were diverse in resources, geography, and mission, they shared a common client: at minimum, 40% of each of the camp's population was comprised of low-income youth.
One of SummerCollab's core values is to meet camps and their leadership where they are.  No two camps are the same. As such, when they embarked on this process of "expansion" their initial efforts were meant to understand the culture of each camp they were working with and understand what each was seeking to achieve with their campers, and  – subsequently – how much progress they were making toward these goals.  
To do this, SummerCollab and United Way, through Bank Of America's Student Leader Program, placed Operations Specialists at each site. Their mission was to explore questions related to their placement site's respective camp culture. They explored questions that aligned directly with their camps mission:  What does character building look like in these distinct settings? Are these camps developing social skills in the effort to implement restorative justice practices? How can fun, educational summer experiences elevate the summer camp experience?
"This foothold empowered Operations Specialists and Instructional Coaches to begin providing additional support, as defined through their findings — or really just at the request of the camp leadership or counselors," explains Lindroth.
Milli, the Operations Specialist at Brown YMCA, witnessed a shift in overall attitude as the summer went on: "Although challenged by problems such as under-staffing and scheduling, counselors began to use us as resources. I saw the counselors connecting with the kids and buying into the ideas that SLC proposed."
"The most rewarding part of camp has been going into enrichment periods and helping counselors carry the plans out and see kids get excited about a plan I helped to create," explains Olivia O'Dwyer, Kingswoods Operations Specialist.  "Even though we were challenged by supplies and time for preparation, it became apparent that the campers were being engaged!"
The data collected at each camp also conclusively answered the question driving SummerCollab into this engagement: the needs of community centers across the state of Delaware.
The highly functioning team of Operations Specialists – and the data that they collected – illustrated gaps in structured programming, high levels of behavioral problems, and a need for additional staffing support, planning time, and curricular tools that comes with SLC's standard operating model.  "This summer showed us that we have value to add – and there are incredible partners in this community we want to work with – and together we have the very real opportunity to reverse the national trend of summer learning loss and close the achievement gap," says Lindroth.   
Moving forward, SLC hopes to partner with at least four additional programs as a direct result of this summer's "expansion site" engagement.
"It's exciting for everyone at camp to think about the possibility of a partnership with SLC because it would keep the 'summer camp vibe,' while elevating the summer camp experience to be fun and educational – both decreasing behavioral issues and increasing learning," says Operations Specialist at Bear YMCA, Maddie Tallman.
"The success of this endeavor has convinced me that with SLC's strong curriculum, comprehensive training, supply system, and dedicated coaching, we could bring camp to a whole new level," says Gerry Hausheer Program Manager at Kingswood. "I fully believe in the mission of SLC and see its potential to thrive in countless new capacities."